Philip J. Chanfrau, Esq.
The owner and manager of his law firm. Philip J. Chanfrau was born and raised in Daytona Beach, graduated from Seabreeze HS and then attended college at U of Fla. He graduated from Stetson College with both a BS and a JD degree with honors. He started his legal work in Daytona in 1970. He formed a partnership with his brother in 1977. In 2009 moved his practice to Palm Coast, Florida. He moved his home to Palm Coast in 2007.
Mr. Chanfrau is an avid golfer, reader, and loves to research his cases and go to court. During a recent trial in Tampa, Phil won a $1.3 million dollar verdict against a trucking company in a CRPS- RSD (reflex sympathetic dystrophy) case. At least 7 other law firms worked on the case and quit before Phil was retained, and the highest pre trial offer was $200,000. In less than two months Phil got the case, prepared it for trial and won it. Needless to say, Phil's client was grateful for "getting his life back."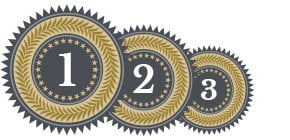 Experienced.
Mr. Chanfrau has a ton of experience handling legal matters for all types of situations. He helped prepare documents for bank loans, the Daytona International Speedway and handled hundreds of real estate deals in the first part of his practice. He was a part time public defender for 6 months. But, he decided to concentrate on handling injury cases in 1983.
In 1985 he was Certified as a Civil Trial Specialist by the Florida Bar. He has been the president of the Volusia Civil Trial Lawyer's Association, chairman of the Volusia county grievance committee and is recognized by Martindale Hubble as an AV lawyer, which is one of the highest forms of peer recognition a lawyer can achieve. As a young lawyer he served on the Young Lawyer's Board for Governors, a section of the Florida Bar. He has handled maritime law cases including a wrongful death case on the St. John's river which he settled for $1.5 million.
MY PHILOSOPHY:
"A thoughtful committed lawyer can make all the difference."
"We have experience, and we combine it with the right amount of caring and attention to detail. Your satisfaction is our #1 goal."